We hope to see you at our signature auction on Saturday, February 27 at the Double Tree in Alsip. To attend the auction please click here. Park Lawn's vacation raffle is underway, you choose the destination- valued at $4,600.00. Click here to purchase vacation raffle tickets. 
Get a sneak peek of what will be featured and bid on these experiences during the live auction!
---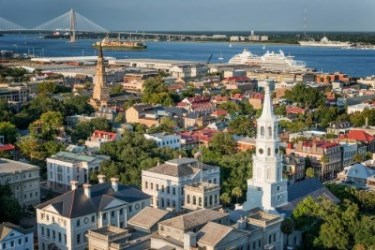 Trips
Charleston Luxury Get Away For 2
Includes:
Three-Night Stay in a deluxe room at the Belmond Charleston Place Hotel
Daily continental breakfast for two
Charleston Grill six-course dinner menu with dine pairing
Round-trip airfare for two
Belmond Charleston Place Hotel
Enjoy a three night stay in a deluxe room including daily continental breakfast for two in the Palmetto Café at one of the finest hotels in Charleston, located just minutes from famous homes, museums and churches.
Private Charleston History and Photo Tour
Experience Charleston's incomparable beauty, unique history and flourishing preservation with your private guide whose knowledge of Charleston heritage, culture, and architecture is unmatched. Your 2 ½ hour private VIP walking tour for two can be customized to what interests you most.
Charleston Grill
Enjoy a specially created 6-course dinner menu with expertly chosen wine pairings for two.
---
Private Historian's Tour of the U.S. Capitol For 2
Includes:
Three-hour private guided tour for two of the Capitol and surrounding buildings
Three-night stay in a standard Fairmont room at the Fairmont Washington DC
Daily breakfast for two
Round-trip airfare for two
Private Tour of the U.S. Capitol Building "The Most Famous Building in the World"
Includes:
Visit the Houses of Congress
View famous historic spots: The Rotunda, Statuary Hall, the Old Senate and Old Supreme Court Chambers, and the Crypt
See famous artwork throughout the building
Discuss history with a knowledgeable and engaging historian
Visit your Congressman's and Senators' Capitol Hill offices
Explore the new half-billion-dollar Capitol Visitor Center
Visit the fabulous Library of Congress, as in the movie "National Treasure"
Dine among insiders at a famous Capitol Hill restaurant (cost of the meal is not included)
Fairmont Washington, DC (Georgetown)
Enjoy a three night stay in a standard Fairmont room including daily breakfast for two
---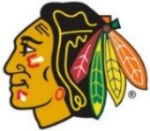 Sports
Autographed Chicago Blackhawks Team Stick– Add this to your Blackhawks collection.  Signatures include:  Toews, Kane, Hossa, Keith, Crawford, Seabrook, Shaw, Hjalmarsson, Teravainen, van Riemsdyk, Desjardins, Krueger, Rundblad, Tikhonov, Dano, Kero, Daley, Svedberg and Panarin.
2 Chicago Bulls Tickets – Cheer on the Bulls as they take on the Detroit Pistons on Saturday, April 2 at 7:00 pm.  Enjoy the view of the game from your seats in section 111, seats 11 and 12. Also includes a gift card to Bacchanalia Ristorante in Little Italy.
---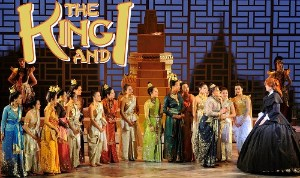 Entertainment
Rodgers and Hammerstein's The King and I at the Lyric Opera Chicago – Includes two main floor tickets for any performances from April 29 – May 7. Before the production enjoy a guided tour of the Lyric Opera by Park Lawn's Charlie and Maureen Reilly. The King and I is based on a true story and is one of the most popular musicals of all time. Compliment your Lyric Opera experience with dinner for two in the Sarah and Peer Pedersen Room.
---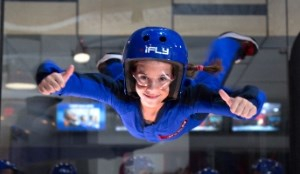 Ifly Indoor Skydiving Experience For 2 – Wonder what is feels like to fly?  Experience free fall at Ifly as you float on a smooth cushion of air. There is no parachute and no jumping from a plane.  Voucher is for two people. After, enjoy a relaxing stay at the Crown Plaza Chicago/O'Hare and later cap off your adventurous day with a fine dining experience at Capital Grill in Rosemont.
---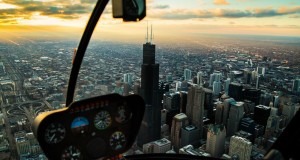 Chicago Helicopter Tour by Night for Two –  The night tour through Chicago Helicopter Experience give you a  magical view of the city's sparkling lights below and offers magnificent view of Chicago's landmarks. The one hour tour ends with a fireworks display over Navy Pier. Afterwards, retire to your room at The Public and have dinner at the hotel's Pump Room.
---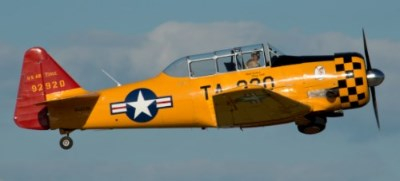 30 Minute Ride In a T6G Texan WWII Warbird – This 1943 T6C was rebuilt in 1949 to a G Model and is powered by 600HP, 9 cylinder/1340 cubic inch radial engine. This plane weighs in 5,000 lbs and uses 30 gallons of fuel per hour! This planed was used as the advanced trainer aircraft for all branches of the military-the last step before Mustangs and Corsairs. Because it much harder to fly and produced quality pilots, this plan was nicknamed "The Pilot Maker." More pilots died learning to fly in the T6 than were shot down by German and Japan combined!
Originally, there were over 17,000 of these planes built but today, less than 600 remain.
The 30 minute flight is for 1 person with pilot Doug Partl over the Chicago Southlands. Doug is an Airline Transport Pilot, Flight Instructor, Certified Warbird Wingman and Airshow Pilot and is second owner of this aircraft.   
---