Summer Blast Drawing & $hare the Pot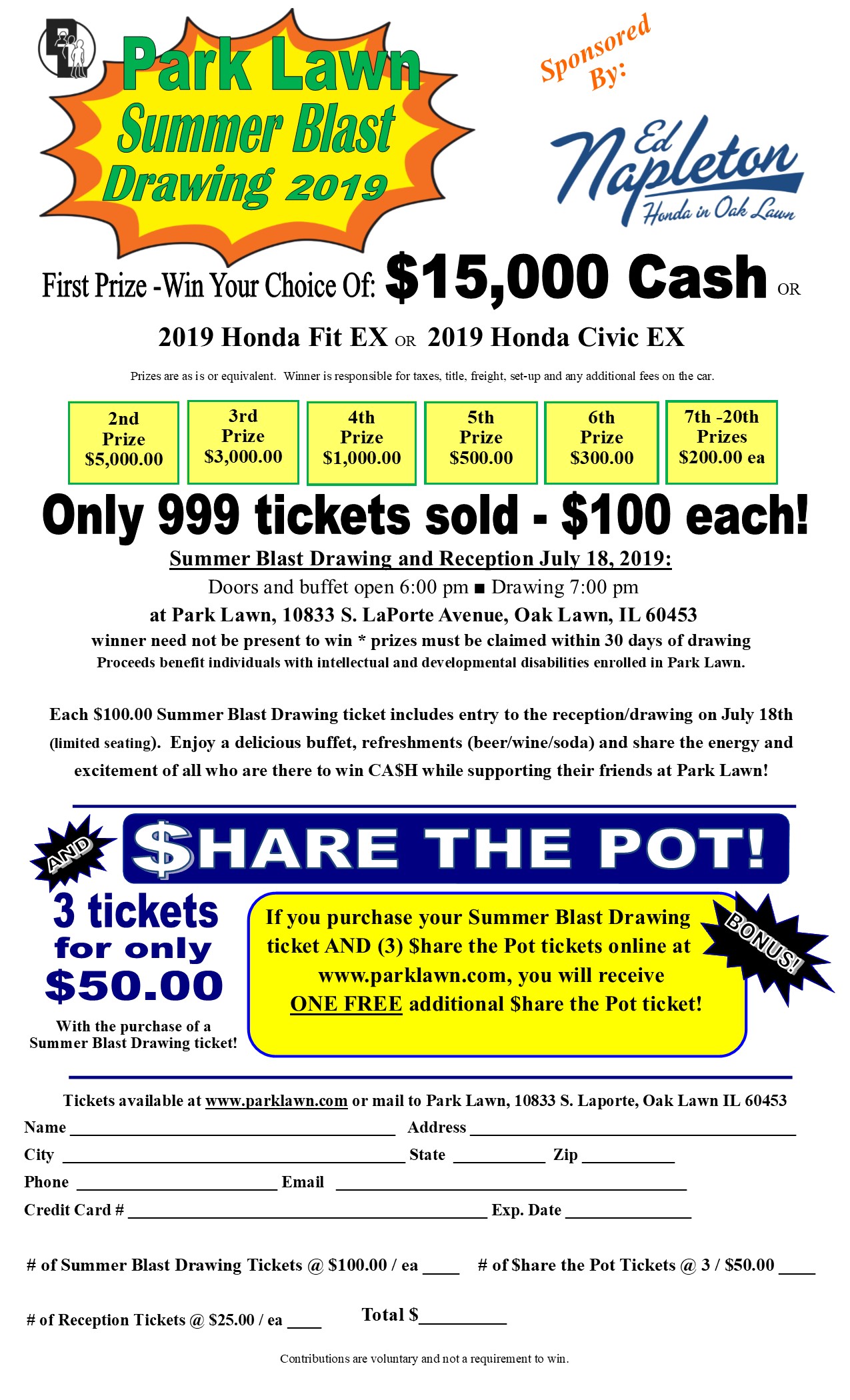 THE WINNERS
Place Name Ticket Number Prize
1 Mike Maty 223 $15,000 or Car
2 Linda Thompson 726 $5,000
3 Frank Gurtowski 055 $3,000
4 Jason & Melissa Ruesch 988 $1,000
5 David Supanich 104 $500
6 P. Schroedle 017 $300
7 Diane Husar 082 $200
8 Kim Otten 746 $200
9 John Betucci 150 $200
10 Severo Pedroza 302 $200
11 Lori Clancy 125 $200
12 Dennis Reilly 219 $200
13 Jim Dubina 296 $200
14 John Singler 239 $200
15 Charles & Maureen Riley 260 $200
16 Lavonne Lichten Walter 283 $200
17 Brian Tiernan 847 $200
18 Rick Lehocky 402 $200
19 Bill Farrell 383 $200
20 Lions Club of Mokena 877 $200
$hare the Pot
$15,550 Jim Hollingshead 659332 $7,775
Take a chance to win BIG in Park Lawn's annual Summer Blast Raffle!
First Prize - Win Your Choice of $15,000 Cash or 2019 Honda Fit EX or 2019 Honda Civic EX
Prizes 2-20 are all CASH!
Raffle Tickets $100 each - Only 999 tickets will be sold!
Doors open 6:00 pm ▪ Drawing at 7:00 pm
Ticket Admits One (Buffet/Beer/Wine) ▪ Additional Reception Tickets $25.00 each
Don't forget… $hare the Pot 3 for ONLY $50.00
(3 for $50.00 with the purchase of a Summer Blast Drawing Ticket)
If you purchase your Summer Blast Drawing Ticket AND (3) $hare the Pot Tickets ONLINE at www.parklawn.com you will receive ONE FREE additional $hare the Pot Ticket!
Proceeds benefit Park Lawn-serving individuals with intellectual and developmental disabilities since 1955.
Winner need not be present - Prizes must be claimed within 30 days of the drawing.
Thank you to our sponsor Ed Napleton Honda in Oak Lawn!