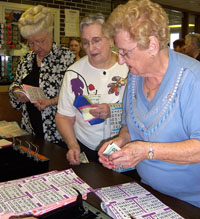 Welcome to Park Lawn's Bingo. Our handicap accessible location offers players a top quality bingo playing experience. Four rooms are available for your bingo playing pleasure. We offer a full service kitchen with plenty of parking and security. Proceeds from bingo benefit individuals with developmental disabilities at Park Lawn. Must be 18 to play. Contact Kathy Dehlin at 708-425-3344 ext. 242 or kdehlin@parklawn.com for more information.
Schedule

Friday
Doors Open: 4:00 pm - Bingo Starts: 6:30 pm

Saturday
Doors Open: 4:00 pm - Bingo Starts: 6:30 pm

Sunday
Doors Open: 10:00 am - Bingo Starts: 12:15 pm

Raffles

Month End Raffle
Split the Pot
Bulls Eye
Red, White & Blue Raffle (Friday, Saturday, Sunday) with Progressive Board
New Yorker (Friday, Saturday, Sunday)
Hot Ball (You play Park Lawn pays)

Pull Tabs

A variety of pull tab games are available each day.

Cost

Minimum $13.00/set up (13 faces) for Bingo
Special sessions - Minimum $20

Radio Frequency Bingo

Hands free computer dab themselves! See article below.

Regular sessions start at $26.00
Special sessions start at $35.00
(Raffles and Pull Tabs are extra)
See information below

Volunteers needed weekly. Call 708-425-3344 to sign up today!