Supported Employment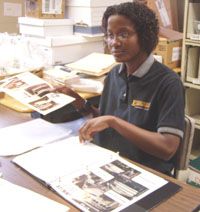 The Supported Employment Program (SEP) matches individuals to jobs within their local community. The participants hold a variety of positions including clerical, food service, janitorial and cleaning, assembly and mail processing work.
The Supported Employment Program provides mutual benefits to businesses and individuals alike. Businesses gain qualified and dedicated employees and our individuals gain independence, self-esteem and the satisfaction that they are contributing back to their community. Our program strongly believes in the promotion of public awareness of the capabilities of individuals with disabilities.
Some of the businesses and agencies who have employed individuals through the Supported Employment Program include: Topline Automotive, Andrew Corporation, Bally Health and Fitness, Queen of Peace High School, St. Lawrence High School, Bruske Inc., Red Lobster Restaurant, Marcus Theatres, Kids "R" Us, Fed Ex, Hosley International, K Mart, Prairie State College, and Brown's Chicken.
Population Served:
Persons with intellectual and/or developmental disabilities
Admission requirements:
• Have an intellectual and/or developmental disability
• Be at least 18 years of age
• Submit the required referral information
• Be a resident of the Southwest Chicago or South Suburban area
• Be eligible to receive Medicaid assistance
• Be able to profit from enrollment in our program
• Participate in an evaluation which will include functional assessments and vocational evaluation
Costs of Services:
If you are enrolled in a Waiver Program which funds Day services, no fees are required to obtain these services. All participation fees are paid by the Department of Human Services on your behalf.
If you do not yet receive funding support through a benefit program, our private pay program is available for your use. Please speak with our Intake Manager to discuss current private pay rates.
Referral Sources:
We receive referral information from Pre Admission Screening (PAS) Agencies across the Metropolitan Chicago area.
For more program information contact Karen Prisco, Program Manager at 708-425-7377 ext. 229 or email request to kprisco@parklawn.com. Inquiries regarding placement information should be directed to Debra Lechuga, Intake Coordinator at 708-425-7377 ext. 226 or dlechuga@parklawn.com