High School Transition Program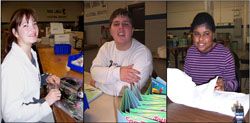 Park Lawn is pleased to collaborate with Community High School District 218 on a School Transition Program. During the district's summer session, Park Lawn's vocational training department staff provides a thirty day vocational enrichment program for eligible district students. These students are currently enrolled in transition programming at their school and hope to learn more about the array of adult services that will become available to them upon graduation from high school. Park Lawn works with the students on a variety of skills including academic, functional living and vocational training. To round out their program week, the students also have the opportunity to participate in our art therapy program. Upon completion of this summer school program, Park Lawn provides a comprehensive written summary with placement recommendations and Community High School District 218 personnel meet and discuss future planning.
Most students participating in the summer session continue with Park Lawn throughout the school year, attending vocational training services for half of their academic day. The students are fully integrated into the vocational training department and interact with the staff and participants here at Park Lawn. During the school year, students are paid for all the work performed following the guidelines of Illinois Department of Labor and United States Department of Labor guidelines. Upon graduation from high school, students have the option to apply for full time services through the many vocational options here at Park Lawn. It is exciting to partner with families, students and the district as we provide comprehensive life span planning for people with disabilities.