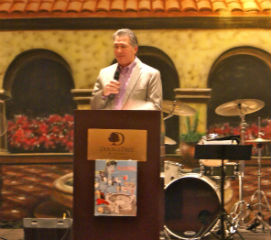 Park Lawn honored Rob Barnes for his consistent and significant support on Park Lawn's behalf.
Rob was introduced to Park Lawn 24 years ago when his nephew Michael enrolled in Park Lawn's school program. Since that time, Rob has embraced our core values and continually strives to carry out our mission each day.
Rob's nephew Michael and daughter Cassie have been the driving influence in his life and his inspiration to support individuals with developmental disabilities. His ability to balance his valuable time between his family, his profession and his commitment to Park Lawn is to be commended.
Rob recognizes our continual need to increase funding and looks for unique and extraordinary ideas to carry out that task. You might be at a local convenient store one day and see a "collection box" sitting on the counter. Rob's vision to place the boxes throughout the community came about when we needed to subsidize funds for our Tag Day event in the event of inclement weather. Since 2012, the collection boxes have generated over $10,600.00 and the program continues to grow.
Since 2011, Rob has been an integral part of Park Lawn's Board of Directors helping to create organizational structure, policies and procedures. He serves on the Resource Development committee where he provides his expertise in fund raising and donor concentration. Over the years, he's been involved with task force committees implemented by the board such as Park Lawn's Planned Giving initiative.
Rob's involved with a number of our fund raising activities such as Tag Days where, over the years, he's recruited many of his friends and family to help collect and also the Grand Raffle where he consistently sells over 60 tickets.
We are grateful to Rob for his motivation to make the lives of individuals with developmental disabilities more productive and independent. He embraces our work and our mission. He recognizes the benefit of his support and over the years has partnered with us to support the ever changing needs of his friends at Park Lawn.