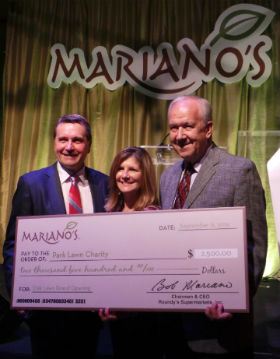 Park Lawn received a $2,500.00 donation from Mariano's/ Roundy's Foundation during the grand opening party of Mariano's Oak Lawn. The foundation supports nonprofit organizations that contribute to creating strong families and communities.
Thank you for your loyal support and for your belief in our mission to provide services that promote independence, choice and access to community living for people with intellectual and developmental disabilities.
Pictured (left to right): Chairman and CEO of Roundy's Bob Mariano, Park Lawn's Director of Development Nancy Schmitz, and Park Lawn Board President Steve Janiszewski.