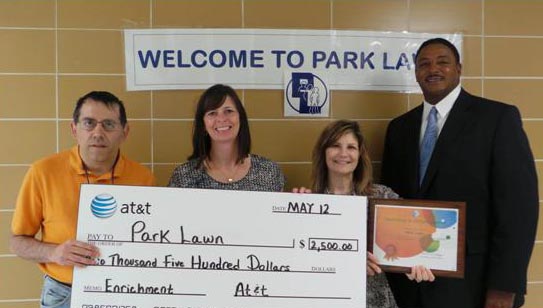 OAK LAWN, IL MAY 12, 2014 — AT&T Illinois today announced an Oak Lawn social service non-profit, Park Lawn, is the winner of an "AT&T Investing in Illinois Award." Park Lawn is a non-profit organization offering a variety of programs and services for individuals with intellectual and developmental disabilities.
Park Lawn receives public recognition and a contribution of $2,500 from AT&T. The contribution will support Park Lawn's enrichment program designed to enhance community participation, social engagement and the opportunity to learn new skills for individuals with intellectual and developmental disabilities.
"At AT&T, we're investing for today and tomorrow. As our customers continue moving to new Internet-based communications technologies like Internet home phone and wireless, we are investing in next generation communications networks. At the same time, we are also investing in the communities we serve, by making corporate contributions to Illinois non-profit groups and programs that are making a difference locally," said Sam Balark, AT&T External Affairs Director.
State Representative Kelly Burke nominated the organization for the recognition from AT&T Illinois.
The AT&T Investing in Illinois Awards provide resources and recognition to organizations and programs that are improving lives in their communities and the state by advancing education, economic growth, new technologies and other essential community services.
###
About AT&T
AT&T Inc. (NYSE:T) is a premier communications holding company and one of the most honored companies in the world. Its subsidiaries and affiliates – AT&T operating companies – are the providers of AT&T services in the United States and internationally. With a powerful array of network resources that includes the nation's most reliable 4G LTE network, AT&T is a leading provider of wireless, Wi-Fi, high speed Internet, voice and cloud-based services. A leader in mobile Internet, AT&T also offers the best wireless coverage worldwide of any U.S. carrier, offering the most wireless phones that work in the most countries. It also offers advanced TV service with the AT&T U-verse® brand. The company's suite of IP-based business communications services is one of the most advanced in the world.
Additional information about AT&T Inc. and the products and services provided by AT&T subsidiaries and affiliates is available at http://www.att.com/aboutus or follow our news on Twitter at @ATT, on Facebook at http://www.facebook.com/att and YouTube at http://www.youtube.com/att.
About Philanthropy at AT&T
AT&T Inc. is committed to advancing education, strengthening communities and improving lives. Through its philanthropic initiatives, AT&T has a long history of supporting projects that create learning opportunities; promote academic and economic achievement; and address community needs. In 2012, more than $131 million was contributed through corporate-, employee- and AT&T Foundation-giving programs.