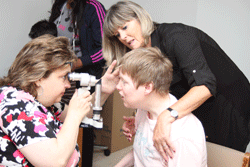 Two local optometrists recently donated their time and talent to the clients of Park Lawn Center. Dr. Narbone and Dr. Bury were joined by intern Lilly, who currently attends the Illinois College of Optometry. The doctors of Complete Vision Care have donated their time for several years, and this tradition continues even though Dr. Bury was recently elected Mayor of Oak Lawn.
In one morning, forty-eight of Park Lawn's most disabled clients received essential eye care. With this challenging population of patients, the doctors aren't conducting typical eye examinations. Their goal is primarily enhancing the quality and comfort of life as much as possible.
They look for serious eye conditions such as glaucoma which requires immediate intervention, as well cataracts which are common and often monitored over time. They check for inflammation or scarring of the surface of the eye, which can be miserable for an individual who can't speak or let anyone know they are in pain. The examinations involve many short tests and move very quickly.
There are success stories such as the young man who was unresponsive to his surroundings. The doctors discovered that he had a very strong prescription and tried a pair of glasses on him. His demeanor and expression changed immediately and his family was thrilled to discover something so simple that greatly enhanced his quality of life.
In another case, a patient who was often angry and difficult to care for was found to have very dense cataracts. Once the patient had them removed, a completely different personality emerged. The patient now interacted warmly with care-givers as well as other residents and became more social.
Special needs populations like the clients at Park Lawn often have many more medical problems than "normal" populations. Even with these challenges, the nurses at Park Lawn work with the doctors to give the best of care to their clients. They use distractions such as bags of cookies to keep the patients looking where the doctor needs.
"The nurses really are great at keeping the clients focused," said Dr. Bury during the exams.
Park Lawn is a non-profit organization offering a variety of programs and services such as adult developmental training, residential facilities, vocational training, supported employment and more for individuals with developmental disabilities since 1955. The mission of Park Lawn is to provide services that promote independence, choice and access to community for people with developmental disabilities. More information about Park Lawn can be found at www.parklawn.com.
###
Photo caption: Dr. Bury does an eye exam on Park Lawn participant DeAnn with the help of Park Lawn Director of Nursing Mary Chikerotis.
Park Lawn Media Contacts (Phone: 708-425-6867):
Nancy Schmitz, Development Director at nschmitz@parklawn.com
Kristen Bonk, Marketing Manager at kbonk@parklawn.com