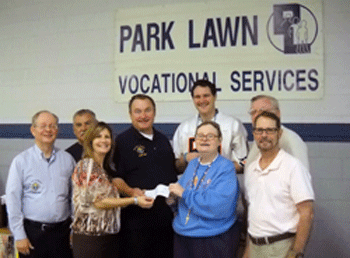 Members of the Knights of Columbus St. Louis de Montfort Council # 14553 recently donated more than $1,000 to local nonprofit Park Lawn from money they raised through their Tootsie Roll Days.
Each year the Knights of Columbus hold their Tootsie Roll Days on the third weekend in September. This was the first time they have donated to Park Lawn. Some of Park Lawn's residents also participated in the Knights Tootsie Roll days.
The Knights of Columbus Council #14553 was founded in 2008 and received the Double Star Award for membership in 2011. All the charity work they do is still true to its four core principles of charity, unity, fraternity and patriotism. The Knights were formed to render financial aid to members and their families. Mutual aid and assistance are offered to sick, disabled and needy members and their families. More information can be found at www.kofc14553.org
Park Lawn is a non-profit organization offering a variety of programs and services such as adult developmental training, residential facilities, vocational training, supported employment and more for individuals with developmental disabilities since 1955. The mission of Park Lawn is to provide services that promote independence, choice and access to community for people with developmental disabilities. More information about Park Lawn can be found at www.parklawn.com.
###
Park Lawn Media Contacts (Phone: 708-425-6867)
Kristen Bonk, Marketing Manager at kbonk@parklawn.com
Nancy Schmitz, Development Director at nschmitz@parklawn.com
Photo: Park Lawn Development Director Nancy Schmitz and Park Lawn participants Diane and Ed were grateful to accept a donation of more than $1,000 from the Knights of Columbus Council #14553 Tootsie Roll Days. (Back L-R) KOC Member Harold Munis, KOC Grand Knight Tom Trusk, Park Lawn participant Ed, KOC Past Grand Knight Raymond Vanderwarren, (Front L-R) KOC Publicity Director Pete Godowski, Park Lawn Nancy Schmitz, Park Lawn participant Diane, and KOC Member Mike Dorr.