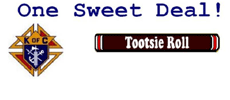 Volunteers (age 18 & older) are needed to help at the Knights of Columbus Tootsie Roll Drive Fundraiser in Oak Lawn on Friday, September 21st & Saturday, September 22nd.
Can you volunteer for 2 hours? Please contact Ron Lapniewski Jr. via e-mail at lapjrron@aol.com or call (708) 363-0065. This is through the Knights of Columbus St. Louis de Montfort Councfil #14553 Tootsie Roll Drive Fundraiser.
Locations:
Storefronts: Les Brothers, Dollar Tree, Fresh Market, Joe & Franks Wal-Mart and Jewel.
Intersections: Ridgeland & 87th; 95th & Oak Park Ave; 95th & Ridgeland.
Volunteers will need to contact Rob in advance to sign up, but will need to come first under the canopy located at 87th & Ridgeland to get your vest, collection container and Tootsie Rolls.
Park Lawn will recieve a portion of what is collected and that percantage will increase the more volunteers we send. Please consider volunteering for this fun, outdoor fundraiser. We need your help.