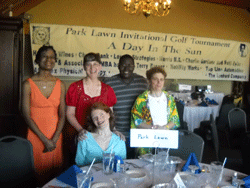 Park Lawn had 87 supporters and friends who gathered at Prestwick Country Club in Frankfort recently to participate in Park Lawn's 27th Annual "A Day In The Sun" Invitational Golf Tournament. Throughout the past 27 years, "A Day in the Sun" has raised more than $500,000 towards Park Lawn's endowment, a fund established to ensure the future success of the organization.
This year's major sponsor was Topline Automotive Engineering, Inc. of Chicago. Additional sponsors included The Lombard Company who sponsored dinner, Laurus Strategies of the caddies, Maury Barger in honor of Theresa Barger sponsored the golf balls, tees and carts, BMO Harris Bank of the commemorative photo frame, Mobility Works provided the welcome gift, Patti Eylar and Charlie Gardner sponsored golf towels, and Chase Bank sponsored the awards. A total of 22 companies and individuals sponsored a tee and hole sponsorship.
Awards were given to first and second place in a variety of categories. In the handicap division low gross 1st prize when to Tim Harrigan (Oak Lawn) and 2nd prize going to Matt Harrigan (Oak Lawn) and low net 1st prize went to Ken Courtright (Palos Park) and 2nd place to Dave Gabrielse (Palos Heights). In the non-handicap division low gross 1st place went to Keith Jones (Arlington Heights) and 2nd place to Dave Trevarthan (Frankfort) and low net 1st place went to Dave Kuenster (Oak Lawn) and 2nd place to Jeff Locascio (Rosemont). Closest to the pin for 4 holes included Ed Fischer (Chicago), Guy Hollis (Palos Park), Dan Kuhn (Chicago), and Joe Newell (Evergreen Park). Long drive for male was Kevin Connors (Clarendon Hills) and for female was Doris Marks (Orland Park). Female low net went to Lisa Greyhill (Clarendon Hills) and female low gross went to Doris Marks.
Park Lawn also held "A Day in the Sun Raffle" and the top three winners included Tony Murray with the first prize of $2,000; John Harrigan with second prize $1,000; and John Cosich Jr. taking home 3rd with $500.
Park Lawn is a non-profit organization offering a variety of programs and services such as adult developmental training, residential facilities, vocational training, supported employment and more for individuals with developmental disabilities since 1955. The mission of Park Lawn is to provide services that promote independence, choice and access to community for people with developmental disabilities. More information about Park Lawn can be found at www.parklawn.com.
###
Park Lawn Media Contacts (Phone: 708-425-6867)
Nancy Schmitz, Development Director at nschmitz@parklawn.com
Kristen Bonk, Marketing Manager at kbonk@parklawn.com