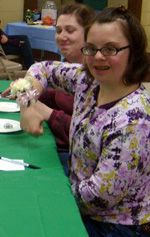 Dana is one of more than hundreds of people with intellectual and developmental disabilities who benefit from local nonprofit Park Lawn's vocational day and residential programs.
Dana's family is coordinating a "Park Lawn Bunco Night" fundraiser where Dana looks forward to rolling the dice with the participating teams for her friends at Park Lawn.
Every one of all ages is invited to gather a bunco team or come individually this Saturday, May 5, at Hammond Hall located at 4343 Southwest Highway in Hometown.
Tickets are $25.00 per seat and include light snacks, non-alcoholic beverages, gourmet desserts, prizes and more.
To order tickets for Park Lawn's Bunco Night or for more information about the event, please call Kathy at 708-422-9569 or visit the calendar events at www.parklawn.com/events. If you are unable to attend, but would like to make a donation, please contact Kathy.
The mission of Park Lawn is to provide services that promote independence, choice and access to community for people with developmental disabilities. More information about Park Lawn can be found at www.parklawn.com.
Photo Caption: Park Lawn participant Dana shows off the flower corsage she received as the guest of honor at last year's first Bunco Night for Park Lawn. Behind her is her friend from Park Lawn Katie.