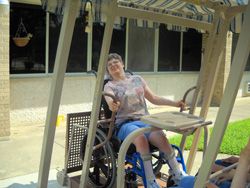 Park Lawn Awareness Week is official in six Chicagoland South Suburb cities during the week of March 19 through March 25. Park Lawn is a non-profit organization that offers an array of programs for more than 590 individuals with intellectual and developmental disabilities.
The participating cities and villages recognizing Park Lawn Awareness Week include Chicago Ridge, Crestwood, Oak Lawn, Orland Park, Palos Heights, and Palos Park. In recognition of Park Lawn Awareness Week there will be two Park Lawn Fun Days where volunteers are needed to help play fun activities with Park Lawn residents and friends in the community are encouraged to show their support by wearing Park Lawn's color, blue, on Friday, March 23.
This week was chosen during this month to celebrate the nationally recognized month of March being Developmental Disabilities Awareness Month. This is the second year of Park Lawn Awareness Week and it was initiated by Park Lawn guardians Charles and Maureen Reilly, whose child Kyle is enrolled in Park Lawn programs. Maureen is a board director for Park Lawn and is a member of the Resource Development Committee.
Park Lawn is asking community members to welcome people with disabilities into their neighborhoods, businesses, and community events not only during the month of March, but throughout the year.
There are several ways the community can help raise awareness about Park Lawn and issues concerning developmental disabilities. The following are some suggestions Park Lawn wants you to get involved:
• Use Facebook or Twitter to let friends know that March is Developmental Disabilities Awareness Month and Park Lawn is celebrating this week.
• Arrange a tour to Park Lawn or volunteer to help. Call 708-425-6867 or go to www.parklawn.com/getinvolved.
• Write a letter to the editor of your local newspaper regarding awareness in your community.
• Contact your legislator and let them know you would appreciate them enacting public policy to assist people with intellectual and developmental disabilities.
• Get to know someone with a disability. Everyone has something to offer and together we can accomplish more.
When an individual is diagnosed with intellectual and developmental disabilities, it can be considered mild, moderate, severe or profound. Park Lawn helps adults with a wide variety of disabilities from mild to profound. Park Lawn works with guiding people through each aspect of their daily lives all the way up to helping people write their own personal checks. While the primary disability is mental retardation, in most instances it is accompanied by physical disabilities, behavioral challenges and medical needs.
Park Lawn was founded in 1955 by ten families from Evergreen Park and Oak Lawn, creating the name Park Lawn. These parents were determined to provide education for their children and began by holding classes in rooms donated by local organizations. By 1968 the group raised enough money to erect a school in Oak Lawn and hire staff. As the children aged and their needs changed, Park Lawn expanded its programs.
Today Park Lawn's programs are throughout the Chicago South Suburbs and include adult developmental training, vocational training, supported employment, high school transition, a senior program and 10 residential facilities.
Park Lawn also enjoys the support of hundreds of volunteers and donors. Along with the 14 board members who volunteer time and event volunteers, Park Lawn engages in a collaborative program with Marist High School, where fifty high school seniors volunteer each day to help with client programs.
Other ways to support Park Lawn can be found at www.parklawn.com/events. Park Lawn is also looking for volunteers willing to collect donations on April 6 / 7 and 20 / 21 for Tag Days: Miles of Smiles. Park Lawn will provide all of the supplies that include a bright orange safety vest with Park Lawn's logo, a collection bucket with Park Lawn's logo and a tag with information about Park Lawn along with a piece of candy to thank generous donors. This event is perfect for students who need to earn service hours for confirmation or graduation.
The mission of Park Lawn is to provide services that promote independence, choice and access to community for people with intellectual and developmental disabilities. For further information about ways to volunteer or donate to continue the programs at Park Lawn, visit www.parklawn.com or call 708-425-3344.
Photo Caption: Park Lawn participant Megan enjoys swinging outside for the first time at Park Lawn's Oak Lawn location. It is the continuous goal of Park Lawn to highlight the abilities of individuals with intellectual and developmental disabilities.