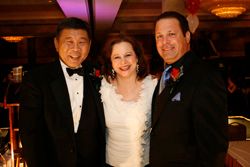 Local nonprofit Park Lawn is taking reservations for the 2nd Annual "A Rhapsody in Blue" scheduled for Saturday, February 4 at Double Tree Hotel in Alsip, IL. (http://www.parklawn.com/events).
The evening theme will be a "Blue Hawaii" getaway. This theme runs parallel to the drawing of a "Hawaii Trip for Two" raffle that will occur the same night with tickets being sold separately. Attendees of "A Rhapsody in Blue" dinner and auction can expect a Hawaiian greeting by Hula Chicago (http://www.hulachicago.net/) and Park Lawn participants who benefit Park Lawn programs. Guest can expect a musical backdrop during cocktail hour by Aloha Chicago (http://www.alohachicago.com/). Following that will be an open bar, dinner, live and silent auctions, and then dancing to live music by Sundance. Auction attendees will be treated like celebrities when Park Lawn's photographer captures a special moment of guests with a commemorative keepsake photo. Cocktail attire is required and everyone can wear blue to show their Park Lawn support.
Live auction items will include 4 passes to Walt Disney World; an aerobatic thrill ride; Chicago Bears tailgating package and more.
Another highlight of the Live Auction will be the "Fund-A-Cause". The money raised through the "Fund-A-Cause" will support additional music and art therapy for Park Lawn's GRACE program that works with aging individuals with developmental disabilities. Park Lawn has been working with Institute for Therapy through the Arts (http://www.musicinst.org/institute-therapy-through-arts) since 2005 with music therapy one weekday. Through this experience, Park Lawn staff has seen the improvements it provides and would like to increase music therapy for the GRACE program to two weekdays and add art therapy.
Tickets are also available to participate in the "Hawaii Trip for Two" raffle and only 400 tickets will be sold. The winners will be able to explore Honolulu and Maui and see the Arizona Memorial and tour the USS Missouri. The trip includes two round trip airfare and inner airfare, 5 star hotels and a car rental in Maui. Tickets will be sold separately from the auction.
Sponsors of "A Rhapsody in Blue" include Standard Bank & Trust Inc., The Private Bank, Grey Hill & Associates, Brady Photography, Hob Nob Wine and the Chocolate Diva. Decorations and centerpieces are provided from Cheri Boublis, Jean Fornal, Connie Karlovic, Patti Lynch, Cheryl Orlowski, Julie Partacz, Charles and Maureen Reilly, and Victoria Scanlon.
Proceeds from "A Rhapsody in Blue" will benefit Park Lawn's mission to provide services that promote independence, choice and access to community living for people with intellectual and developmental disabilities. Park Lawn is a non-profit organization offering a variety of programs and services such as adult developmental training, residential facilities, vocational training, supported employment and more for individuals with developmental disabilities since 1955. More information about Park Lawn can be found at www.parklawn.com.
Picture: "A Rhapsody in Blue" Auction Master of Ceremonies Gene Honda, the sports announcer for the Chicago White Sox, Blackhawks, and WTTW and Bonnie Greene, US 99 News and Traffic Reporter for the Lisa Dent and Ramblin' Ray Radio Morning Show will be working with auctioneer Keith Jones again from Sayre & Jones Auctioneers (http://www.sayreandjonesauctioneers.com/).