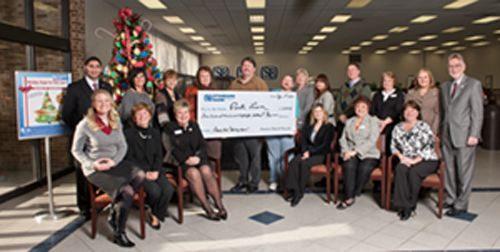 Working together, the employees and customers of 10 Standard Bank (www.standardbanks.com) branches made the Holiday season a little brighter for Southland non-profit Park Lawn and the people it serves. Their donation of over $5000 will go to the agency's "Angel Fund," (http://www.parklawn.com/about_us/programs.html/title/angel-fund) which provides assistance with everyday living expenses as well as specialized equipment for individuals with a wide range of intellectual and developmental disabilities.
Donations to the bank's "Holiday Hope for Park Lawn" program were made by purchasing ornaments to decorate the holiday trees located in each of the ten participating branches.
"Our dedicated employees have been working to support Park Lawn since 2007," said branch manger Jean Fornal, "not only through fundraising but also by volunteering their time directly. But this event was special because we invited our customers to join in our efforts, and we are thrilled by their generous response."
Founded in 1955, Park Lawn offers a variety of programs and services such as vocational and developmental training, residential facilities and supported employment. The agency's Angel Fund was created to meet the needs that Social Security and other programs don't cover, and to ensure that all residents and clients feel unique, loved and valued. For more information visit www.parklawn.com.
Park Lawn is just one of many community organizations that has benefited from Standard Bank's tradition of service. With 43 branches in Chicago and Northwest Indiana, the bank's efforts have supported schools, veterans organizations, food pantries and other organizations in every neighborhood they serve.
"Our banks are locally owned and managed, and our employees both live and work in the community," said branch manager Victoria Scanlon. "We work hard to help Park Lawn and other causes because the people who benefit are our neighbors, and it's a great feeling to be able to help them."
More information about Standard Bank and its services can be found on their website, www.standardbanks.com.
###
Click here to download a larger version of the picture shown. http://www.parklawn.com/file_download/62c61bf9-743c-487f ...