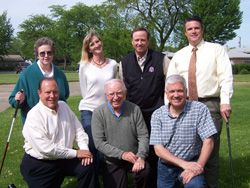 Golfers are invited to Park Lawn's 26th Annual "A Day In The Sun" Invitational Golf Tournament on July 18. This year's tournament will be played at Prestwick Country Club in Frankfort. Throughout the past 25 years, "A Day in the Sun" has raised more than $500,000 towards Park Lawn's endowment, a fund established to ensure the future success of the organization.
Golfers who participate in Park Lawn's "A Day In the Sun" golf invitational will enjoy a breakfast buffet with registration beginning at 8:30 a.m. The shot gun golf will begin at 10:30 am with lunch being served on the course. Throughout the day each golfer will experience 18 challenging and picturesque holes of golf with cart and caddy, cocktail reception, dinner, raffles and awards.
Park Lawn's "A Day in the Sun" golf outing is sponsored by Topline Automotive Engineering, Inc. of Chicago. Additional sponsors include The Lombard Company, The Dearborn Companies, Maury Barger honoring his daughter Terry, and Mobility Works. Sponsorships are still available.
For registration information and fees, contact Park Lawn's Development Office at 708-425-6867 or visit www.parklawn.com.
Park Lawn is a non-profit organization offering a variety of programs and services such as adult developmental training, residential facilities, vocational training, supported employment and more for individuals with developmental disabilities since 1955. The mission of Park Lawn is to provide services that promote independence, choice and access to community for people with developmental disabilities. More information about Park Lawn can be found at www.parklawn.com.
Photo Caption: Park Lawn's Golf Outing Committee prepares for the 26th Annual Golf Tournament scheduled for July 18. Back: Honorary Chairperson Donna Dumke of Oak Lawn, Lisa Greyhill of Westmont, Tim Harrigan of Oak Lawn, John Caspary of Willowbrook. Front: Chairman Bill Snow of Naperville, Bob Thomalla of Frankfort, and Tom Olofsson of Chicago. Not Pictured: Mike Walsh of Bridgeview.