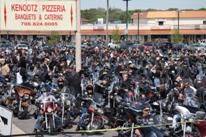 Hundreds of motorcycle enthusiasts are encouraged to wear their Irish green apparel for local non-profit Park Lawn's 14th Annual Big Bikes, Big Hearts (BBBH) Motorcycle Run scheduled for May 15th. All proceeds will benefit the programs and services individuals diagnosed with developmental disabilities.
The entire route and event is coordinated by a committee of motorcycle enthusiasts including Steve Bonk; Patricia Graham; Mark Miller; Doug and Donna Partl; and Kurt Pratt.
In 1997, the first BBBH event attracted around 200 bikers. Last year, more than 700 bikers arrived to ride for Park Lawn and it raised more than $17,000.
The past two years had a theme to encourage the bikers to have fun while raising funds for Park Lawn. This year's run is an Irish theme and the BBBH committee wants motorcyclist to ride for the mission and the Pot O' Gold. Riders need not be Irish to ride; they can just look the part that day. There will be a costume contest for the best looking Irish man and woman. Everyone interested in attending should figure out how their Irish Kilt will work on the motorcycle.
Registration begins at 8:30 AM at Tilted Kilt, 6401 W. 95th St. Chicago Ridge with the first bikes out at 10:00 AM and last bikes out by 11:00 AM. Breakfast will be offered at the Tilted Kilt and portion of the breakfast proceeds will be donated back to Park Lawn. Included in the entrance fee are raffles, door prizes, a bike show, run pins to the first 700 bikers and live music and food.
Non-run participants are invited to the post run party at CD & Me in Frankfort, where there will be live music by Triple X beginning at 2:30 PM. More information is available at www.bigbikesbighearts.com or call 708-425-6867. Registration fee is $20/rider and $10/passenger.
The BBBH committee members and Park Lawn anticipate another successful year due to the help and support from local sponsors such as A.B.A.T.E, Toys for Tots, Klein Tools, Liberty Mutual, Drop Zone, Law Tigers, CD and Me in Frankfort, Tilted Kilt in Chicago Ridge, Stella's in Romeoville, Jameson's Restaurant and Bar in Joliet, Tully's in Morris, Fleckenstein's Bakery in Mokena, and Flapjack's in Oak Lawn.
Big Bikes, Big Hearts is a charity event hosted by Park Lawn, a local non-profit organization that provides programs and services for individuals with developmental disabilities. Park Lawn's mission is to provide services that promote independence, choice and access to community living for people with developmental disabilities. We provide services for people between 21 through 70 years old. Attending this event will provide better medical care and encourage independence for individuals with developmental disabilities. More information about Park Lawn can be found at www.parklawn.com.
Photo Caption: Park Lawn participants that are diagnosed with developmental disabilities will show their appreciation at the send off of the May 15th Park Lawn Big Bikes, Big Hearts beginning at Tilted Kilt in Chicago Ridge.