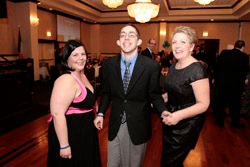 More than 250 people attended Park Lawn's first annual "A Rhapsody in Blue" live and silent auction generating over $80,000. The event was recently held at Chicago Gaelic Park in Oak Forest.
The net profit amount raised doubled the initial fund raising goal that Park Lawn had planned.
The event will be held annually and the auction committee has already planned for next year's event to be held on Saturday, February 18, 2012.
Attendees of "A Rhapsody in Blue" dinner and auction enjoyed a premium open bar, dinner, live and silent auctions, and dancing to live music by Sundance. The night began with a musical backdrop during cocktail hour by Indigo Jazz 5.
During the live auction Park Lawn received support for the special "Fund-A-Cause" project. More than $14,000 was raised through the "Fund-A-Cause" and will support Park Lawn's Angel Fund Program. This program provides clothing, shelter, medical supplies and more for Park Lawn residents with little to no family involvement.
Proceeds from "A Rhapsody in Blue" benefit Park Lawn's mission to provide services that promote independence, choice and access to community living for people with intellectual and developmental disabilities. Park Lawn is a non-profit organization offering a variety of programs and services such as adult developmental training, residential facilities, vocational training, supported employment and more for individuals with developmental disabilities since 1955. More information about Park Lawn can be found at www.parklawn.com.
Photo Caption: Park Lawn participant Kyle having fun on the dance floor with friends attending Park Lawn's Auction "A Rhapsody in Blue".