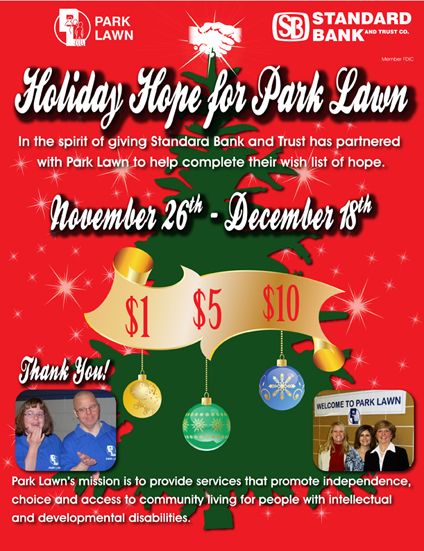 Two Oak Lawn Standard Bank and Trust branches are collecting donations to decorate their trees to help complete local non profit Park Lawn's wish list of hope.
Standard Bank Branch Managers Jean Fornal and Victoria Scanlon reached out to Park Lawn staff wanting to help the community. When Park Lawn said they have a wish list of items needed for residential facilities, all agreed to begin the "Holiday Hope for Park Lawn" collection drive.
It began November 26th at the two Oak Lawn Standard Banks addressed 4001 W. 95th Street and 4700 W. 111th Street. It will continue throughout the holiday season ending Saturday, December 18th.
Anyone can support "Holiday Hope for Park Lawn" by entering either Oak Lawn Standard Bank locations and purchase a decorative ornament in increments of $1, $5 and $10. The ornament will then be proudly displayed on the holiday tree located within the bank.
Donations will help purchase much needed items for Park Lawn's residential facilities. Currently Park Lawn has a total 9 residential facilities and anticipates growth. Items will include everything from pots and pans to outside plants that make it feel more like a home.
For over 60 years Standard Bank has been supporting local organizations and remains committed to investing in the communities it serves. Standard Bank and Trust Co., operates 43 full service locations throughout Chicagoland and Northwest Indiana. More information about Standard Bank and Trust is available at www.standardbanks.com.