Chuck Jenrich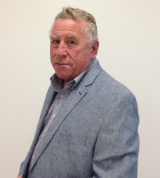 Director
Chuck retired as Dean/Senior Executive Director of Corporate and Continuing Professional Education at Prairie State College as of May 1, 2009. Chuck is Vice President of the U.S/Canadian operations for RG Registrations and serves as sales/marketing executive for AJA Registrars, a quality and environmental system auditing groups with offices in Canada, England, Asia and the U.S. Chuck is a trainer/auditor for Perry Johnson Consulting in ISO standards located in Southfield Michigan and a Six Sigma Master Champion Trainer/Coach with the The Quality Group out of Atlanta Georgia. Chuck's most recent degree is awarded from Heriot-Watt University, Edinburgh Scotland, MBA in International Business and Economics
He is immediate past Chairman of the Workforce Investment Board for Cook County (2006-2012, Vice Chair from 2000-2006),. Immediate Past Chairman of SouthStar Services, a nonprofit service for adults with disabilities and a member of Chicago Southland Chamber of Commerce, formerly the Vice Chair of Education and Workforce and just recently retired from the board of Directors. Chuck is a member of the Board of Directors for the Chicago Southland Economic Development Corporation.
Chuck's background includes information technology, manufacturing, financial services, consulting and education. He has taught at several of the areas colleges and served as adjunct faculty for Saint Xavier University for twenty seven years, teaching in several subjects and designing their Risk Management Course in their MBA program. Chuck is a Senior Lecturer for Benedictine University in graduate and undergraduate studies including economics, political science, business and ethics.
In his spare time, he enjoys travelling and spending time with his family.