Cheri Boublis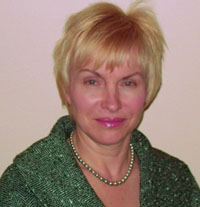 Director
Cheri Boublis was an avid supporter and volunteer of Park Lawn before accepting a position as director on the Park Lawn Board. Cheri first learned of Park Lawn in 2007 while attending a community event. She purchased a raffle ticket from a Park Lawn volunteer who happened to be a parent of a program participant. Cheri was intrigued by their conversation and wanted to know more. The next day she contacted Park Lawn's development office and set up a tour. At the time Park Lawn was in the midst of a capital campaign to renovate the Park Lawn Center residential facility. Cheri was fascinated by the project and the depth of our organization and shortly after the tour she and her sister Yvonne made a pledge to the campaign. Cheri also became an instant volunteer and whether she is lending a hand for tag days, Fall on the Green or other activities she is continually impressed by the respect the community has for Park Lawn.
Cheri is a graduate of Illinois State University where she received her Bachelor of Science degree in Food Management. She has worked in the healthcare food service industry throughout her career in a variety of roles including Marketing Director for ServiceMaster and Director of Operations for Aramark. In 2007, she began her own consulting practice, B.ourguest Inc. This change allowed her to balance work with charitable endeavors.
Cheri has been a resident of Oak Lawn for 16 years and is a member of Trinity Lutheran Church. She is proud of the progress and wonderful things happening in Oak Lawn and supports her community and several local causes besides Park Lawn.
Cheri is inspired every time she volunteers for Park Lawn's Tag Days. Through this event she witnesses the generosity of the community, people sharing motivational stories, and everyone's desire to encourage others to support the work of Park Lawn. Regardless of the weather, Cheri always feels good about her experience tagging. It's a time, she says, for us to get excited about Park Lawn's future. During her term as director Cheri hopes to expand and develop new resources of support for Park Lawn.