Sharon's Healthy Lifestyle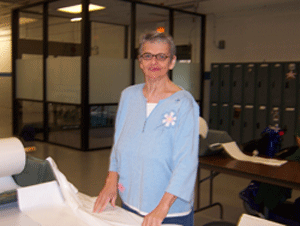 Sharon lives in one of Park Lawn's Community Integrated Living Arrangement (CILA) homes. It was an adjustment for her after living at home with her family for so many years. But she made friends fast and she had family to lean on for support. Sharon loves to ask questions and talk and she will remember everything about her friends. She has a very wonderful memory and never forgets.
Sharon loves to go to work everyday at Park Lawn and make money to be able to go out and shop. She loves to buy special things for her room and she takes pride in keeping her own room neat and clean. She makes her lunch daily and helps to prepare dinner. She also does her own laundry with some assistance.
Sharon has gotten very healthy lately and lost weight after watching her diet and feels so much better. Her health has immensely improved. She is able to get around easily and even helps out on Park Lawn's Annual Tag Days event. Sharon has a special friend that she is just crazy about and they spend Tag Days together.
Sharon is extremely friendly and easily makes great conversation. She is actually very funny and people can't help to laugh at her jokes. Sharon is so happy living and working at Park Lawn. She expresses her wants and needs and openly discusses her concerns.
Sharon is a very special lady and everyone just loves her. She is fun and enjoys life to the fullest. It is certainly a pleasure having Sharon at Park Lawn.