Success Stories
Joyce's Move to Park Lawn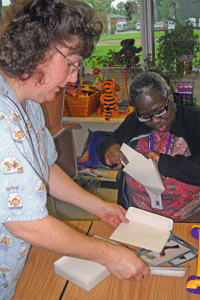 Joyce came to the Park Lawn Adult Developmental Training Program (ADT) in March of 2011. Her family realized that they could no longer care for her growing medical and age related needs and went about seeking a residence and new day program. Having a family member with significant intellectual disabilities has always proved challenging, but with a new diagnosis of dementia Joyce's family recognized that they needed more help than her current day program could provide.
Since Joyce had been enrolled in a day program for seniors it was important to her and to her family that her new agency would provide the same benefits. As well, it was important that both the day program and residence provided ongoing nursing support in an environment filled with staff and peers that Joyce could relate to. The family insisted that Joyce's new program maintain her optimal health and wellness.
Her family found out that Park Lawn's Developmental Training Program places an emphasis on individualized care and aging well throughout the many phases of adulthood. They then recognized that Joyce would have the opportunity to interact with adults in all age groups, but her particular needs would be honored and addressed within a specific classroom environment.
Today, Joyce has a stable and consistent program routine which focuses on environmental awareness and works at bolstering her daily living skills. She is provided unique responsibilities such as assisting with table setting for lunch and delivering mail to staff at her day program, all under the guidance and support of her favorite staff member, Cindy. While she experiences continuing confusion, her medication regime and the monitoring conducted by the nursing staff keep her alert and able to attend the program on a consistent basis. Joyce is able to spend her day engaged in meaningful activities at the appropriate intensity level and receive on-going validation and respect for her unique talents and gifts.