Diane's College and Vocational Dreams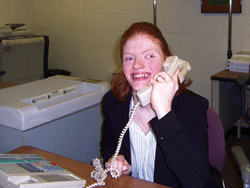 Achieving goals is so important to Diane. Her dreams include going to college, living independently and getting a good job. At Park Lawn, Diane's dreams are becoming reality. After graduating from high school and entering our adult vocational training program, Diane has been working steadily to meet her goal of a college education. Although her cerebral palsy makes getting to classes difficult and her mild mental retardation makes learning a challenge, her desire to succeed is very strong. Diane currently attends clerical classes at Moraine Valley Community College three mornings per week. After school, Diane comes to our Vocational Services building where we reinforce the concepts and skills she is learning at Moraine. Diane has learned to answer a multiple line telephone, how to greet guests and how to page staff to the reception area. Additionally, Diane has learned how to complete a 3 item look up on the internet.
In order for her to succeed, we have made some minor modifications to her work environment such as an arm chair for postural security, additional room for her walker and more frequent breaks due to fatigue. Diane's training isn't complete, and as she learns more at school, Park Lawn reinforces her knowledge base by adding tasks onto her existing paid duties. Diane is able to use her wages to increase her overall independence for living expenses. Our long term goals for Diane are based on her dreams, we want her to develop her vocational skills in the clerical area and help her find a full time position in the community. We want her to continue to take classes at Moraine which tap into her interests and we want her to be successful in her living arrangement. Most importantly, we want Diane to be happy knowing that she can continue to dream and that we will help make these a reality.