Board & Staff
Chuck Jenrich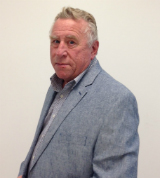 Director
Chuck retired as Dean/Senior Executive Director of Corporate and Continuing Professional Education at Prairie State College as of May 1, 2009. Chuck is Vice President of the U.S/Canadian operations for RG Registrations and serves as sales/marketing executive for AJA Registrars, a quality and environmental system auditing groups with offices in Canada, England, Asia and the U.S. Chuck is a trainer/auditor for Perry Johnson Consulting in ISO standards located in Southfield Michigan and a Six Sigma Master Champion Trainer/Coach with the The Quality Group out of Atlanta Georgia. Chuck most recent degree is awarded from Heriot-Watt University, Edinburgh Scotland, MBA in International Business and Economics. Chuck is a Senior Lecturer for Benedictine University in graduate and undergraduate studies including economics, political science, business and ethics.
Health care has become a consumer of quality and lean training. Chuck led the first use of Failure Mode Effect Analysis in practice both for surgeries and post-surgery rehabilitation. Chuck is trained in the IWA-1 application of ISO standards for health service organizations.
Chuck teaches and has taught on a contract basis for many colleges and universities some of which are Illinois Valley Community College, College of DuPage, Rock Valley College, Moraine Valley, Lakeland, Olney - Illinois Eastern, Triton College, Joliet, Black Hawk and Kankakee Community College. Chuck serves in advisory positions for Governor State University and works with South Suburban College in their manufacturing forums and curriculum design for industry. Chuck is trained in the IWA2, applying the ISO standards to education. Chuck is a Baldrige examiner for the National Quality Award.
He is immediate past Chairman of the Workforce Investment Board for Cook County (2006-2012, Vice Chair from 2000-2006), Where he advocated for adults with disabilities and their employment opportunities.. Immediate Past Chairman of SouthStar Services, a nonprofit agency for adults with disabilities where he has been on the board since 2006. Chuck instructed a group of adults with disabilities in church studies for three year at Hillcrest Baptist Church in Country Club Hills.